Midnight Syndicate - Instrumental Horror Music - Haunting Gothic and Fantasy Symphonies - Halloween Music - Roleplaying Game Music - Haunted House Music - Soundtracks for the Imagination
For over 25 years, composers Edward Douglas and Gavin Goszka have been known as Midnight Syndicate and have been creating dark symphonic soundtracks to imaginary films that transport the listener to worlds of their own creation. To many, they are horror music pioneers crafting fifteen studio albums with their signature blend of orchestral gothic music and movie-style sound effects. To others, they will always be the first "haunted house band" that forever changed the Halloween music genre and became a staple in homes, amusement parks, and haunted attractions worldwide during the Halloween season. Still others know them as the duo that created the first official soundtrack to the legendary Dungeons & Dragons game trailblazing a new era for the use of music in the role-playing game industry. Reminiscent of sweeping, complex masterpieces by artists such as James Horner, Danny Elfman, Black Sabbath, and King Diamond, their critically-acclaimed music has also been featured as a part of films, television shows, video games, and theatrical productions worldwide.
Since the end of the 90s, Midnight Syndicate's music has been integral to setting a powerful mood at top-rated haunted attractions and amusement parks as well as at costume shops, Halloween events, and themed-productions from Siberia and Hong Kong, to Europe and the United States. In 2005, industry expert Leonard Pickel estimated that 75-90% of the attractions in the haunted house industry owned at least one Midnight Syndicate CD. In September, 2009, AOL released the Top 10 Best Halloween Music CDs of all time according to AOL/CBS Radio listeners. Three of the ten listed were Midnight Syndicate discs, which ranked lower only than Danny Elfman's Nightmare Before Christmas and John Carpenter's Halloween soundtracks. In 2015, their album Out of the Darkness was named as one of the 50 Essential Horror Albums – Discs that Created, Evolved, or Defined Genre Music Over the Decades by the venerable horror publication, Rue Morgue Magazine. The band's music has also been used at Hugh Hefner's Halloween parties, on Barbara Walters' specials, at Universal Studio's Halloween Horror Nights as well as on Monday Night Football and by artists Insane Clown Posse, Three Six Mafia, Twiztid, and the Misfits.
Founder Douglas' passion for making music was ignited when he listened to records by The Beatles on his kid-sized turntable and dreamed of composing epic scores like John Williams' Star Wars, Superman and Raiders of the Lost Ark. Both he and Goszka grew up watching classic black and white horror films, listening to Vincent Price reading the tales of Edgar Allan Poe and playing Dungeons & Dragons. They continued to fall in love with the world of horror, fantasy and the supernatural as they developed their own artistry: Douglas played piano and bass guitar, performing in rock bands and scoring student horror films in college while Goszka played keyboard in rock bands and went on to study classical composition and percussion in college. They eventually discovered ways to explore fantasy in literature, film, and art through music.
In 1995, Douglas directed and wrote his first full-length horror film score to a thriller called The Dead Matter (1995), which helped set the principles of Midnight Syndicate in motion. He would later direct and score a remake of that film alongside Robert Kurtzman (From Dusk Till Dawn, co-founder, KNB FX) and Gary Jones (Xena, Boogeyman 3) in 2010. However, in 1997, Douglas' main focus was putting together the first Midnight Syndicate album. The goal was to provide a collection of "soundtracks to imaginary films." This collection presented many different narratives through a variety of genres, including classical, New Age and rock and was punctuated by sound effects. For the sophomore release, Born of the Night, Douglas decided to focus on a Midnight Syndicate album that would specifically appeal to gothic music fans, Halloween enthusiasts, and role-playing gamers. It was at this time that he decided to partner with compelling solo artist Goszka, whom he had known since 1994.
Midnight Syndicate released many studio albums between 1997 and 2005, among them Midnight Syndicate, Born of the Night, Realm of Shadows, Gates of Delirium, Vampyre: Symphonies from the Crypt and the multi award-winning The 13th Hour. They teamed up with Hasbro and Wizards of the Coast in 2003 to produce the first official soundtrack to the classic Dungeons and Dragons role-playing game. In 2008, Douglas' and Goszka's tenth studio album, The Dead Matter: Cemetery Gates came out as a preview to the 2010 remake of The Dead Matter film. That same year, Midnight Syndicate put together their first music video, a live performance of the song Dark Legacy, produced by Robert Kurtzman's Creature Crew and Screamline Studios and filmed in the haunted historic Phantasy Theatre in Lakewood, Ohio. The band's fourteenth studio album, Carnival Arcane (2011) was based on research into turn-of-the-20th-Century carnivals as well as the writings of Ray Bradbury and plays like a self-contained, vivid musical film. The disc garnered rave reviews from pressand won Best Horror CD/Soundtrack at the 10th Annual Rondo Hatton Awards.
In 2013, the band released gothic music vocalist Destini Beard's A Time Forgotten, the follow-up to The Dark Masquerade, her first collaboration with Douglas and Goszka and completed the score to the grindhouse thriller Axe Giant: The Wrath of Paul Bunyan. In summer of that year, Midnight Syndicate released the soundtrack to that film along with Monsters of Legend, a tribute to the classic Universal, Hammer and Euro horror films that gave birth to horror cinema. Featuring cover art showcasing original Universal Monster images with an epic sound to match, the disc has immediately become one of, if not the band's most critically-acclaimed album to date. In addition to cracking FEARnet's Top 10 Horror CDs of 2013, in May of 2014, the album won Best CD honors in the 12th Annual Rondo Hatton Classic Horror Awards marking the band's second such honor. Visit the Midnight Syndicate Store to see and hear more!
After seventeen years, fourteen studio albums, three soundtracks, and a motion picture, Midnight Syndicate announced that they were teaming up with the world famous amusement park, Cedar Point, to launch their first live performances. Midnight Syndicate Live! Legacy of Shadows, a multimedia horror-themed concert blending live music, theatre, and film debuted at Cedar Point's 18th annual HalloWeekends event. Before the shows, Charles Bradshaw, Corporate V.P. of Entertainment for Cedar Fair was quoted saying, "Working with these industry leading music producers on a live show is an exciting prospect. The final product is going to amaze." And amaze it did. Upon its debut, the show began breaking attendance records while being called "top-notch and ambitious," "brilliant and artistically creative," and "a must see" by audiences and press alike. "The success of the inaugural run of Midnight Syndicate Live! has ensured that live Midnight Syndicate shows will be a permanent part of our plans going forward," said Edward Douglas.
In September of 2015, Midnight Syndicate's Out of the Darkness album was included in Rue Morgue Magazine's 50 Essential Horror Albums – Discs that Created, Evolved, or Defined Genre Music Over the Decades. That same month, Midnight Syndicate released Christmas: A Ghostly Gathering. The album featured the band's unique twist on classic holiday carols blended with new and original material. "Our goal was to treat each song in a way that would merge familiarity with originality," said Gavin Goszka. "There are definitely recognizable elements, but plenty of additional original material as well. It also incorporates the widest instrument palette we've used to date and represents what we consider to be the most varied collection of songs we've ever released. There are serenely beautiful moments here alongside more intense, darker tracks, and the end result is a thoroughly compelling and involving listening experience." "With so many Christmas-themed albums out there, we wanted to make this collection uniquely our own," added Edward Douglas. "I think we were able to do that." Since its release, the album has received universal critical acclaim.

In April of 2016, the band announced that they would be creating the first official soundtrack to the immensely popular zombie apocalypse-themed board game, Zombies!!!. "I'm a big fan of Zombies!!!," said Edward Douglas. "With the game celebrating its 15th anniversary in 2016, it seemed like the perfect time to undertake this project. We're working closely with the Twilight team to create something that really enhances their players' gaming experience. I think album will also resonate with our fans in the Halloween and haunted house industries." "Musically, it will be interesting to work in a modern setting," added Gavin Goszka. "Most of our albums have been set in the Victorian and early 20th century, so this will definitely be something different and exciting for us and our fans." In addition to releasing the Zombies!!! soundtrack in September of 2016, the band also reissued their gothic instrumental classic, Realm of Shadows. Raven's Hollow: Realm of Shadows Reissue features the original recordings with a new introductory track and a previously unreleased bonus track from the original recording sessions.
In 2017, Midnight Syndicate celebrated their 20th anniversary with a return to Cedar Point's HalloWeekends for another wildly successful incarnation of their Midnight Syndicate Live! show.  Their follow up production, 2018's Midnight Syndicate: Conspiracy of Shadows featured some of their most involved storytelling as they continued their string of successful productions.  The following year, the band upped the ante for their third consecutive season at the park. "Our first three HalloWeekends shows formed a loose trilogy, with many common elements tying them together," explained Gavin Goszka. "Now that the trilogy has reached its conclusion, we wanted to take things in a bit of a new direction." "The new show has a little something for everyone," added Edward Douglas. "I think fans of 'The Twilight Zone' series in particular are really going to enjoy it." As was the case with the previous shows, Midnight Syndicate Live! 2019 was a huge success, showcasing some the show's most advanced production elements to date.
Although the COVID pandemic of 2020 brought many changes in the band's plans that year, they did team up with Universal Orlando to release a limited-edition Music of Halloween Horror Nights album. Featuring music that had been used at Halloween Horror Nights from as early as 1999 along with material written specifically for the event, the album sold out in less than 36 hours.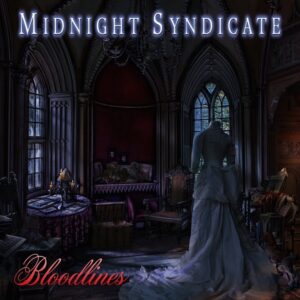 2021 was a landmark year for the band. In June, they released their first live album,  Live Shadows. The album features both previously unreleased material and newly arranged versions of classic Midnight Syndicate songs performed live. Music videos for each of the four Midnight Syndicate Live! shows were also released in order to give fans a glimpse into the Midnight Syndicate Live! experience. Watch those videos here.
In August, Midnight Syndicate released Bloodlines, a brand new studio mini-album. Bloodlines is a prequel to the group's chilling The 13th Hour album taking listeners further into the haunted estate and sinister history of the cursed Haverghast family. The band released a music video for Grand Waltz. Directed by Midnight Syndicate Live! videographer, Andrew Smoley, the music video was the first music video for a studio track to feature Gavin and Ed since Dark Legacy from The Dead Matter: Cemetery Gates.
That fall, the band returned to Cedar Point's HalloWeekends to perform in a remount of one of their most popular Midnight Syndicate Live! productions, 2018's Conspiracy of Shadows. Around the same time, Universal Orlando released two new reissues of the popular Music of Halloween Horror Nights album. To commemorate those releases, Ed and Gavin held their first signing at the theme park that October.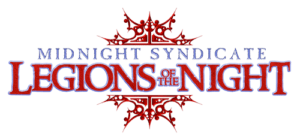 In May of 2022 Midnight Syndicate celebrated its 25th anniversary with a relaunch of its Legions of the Night Fan Community. They also announced that, going forward, Legions of the Night would be the primary outlet for exclusive merchandise, giveaways, behind-the-scenes material, and potential livestreams. An exclusive fan-created "best of" album, entitled Legions of the Night Vol. 1 was one of the special items offered to fans who joined. It is still available now by joining Legions of the Night here.
August of 2022 marked the release of the follow-up to the successful Music of Halloween Horror Nights album. Halloween Horror Night's LegendaryTruth was released on limited-edition vinyl and sold at the Universal Orlando theme park while supplies lasted.  In September, Midnight Syndicate teamed up with Cedar Point's HalloWeekends to celebrate both entity's 25th anniversaries. A special Midnight Hour: 25 Years of  HalloWeekends with Midnight Syndicate was produced along with a commemorative album, HalloWeekends: 25 Years of Terror Together which showcased music featured at the event since the late-90s and new material written specifically for the Midnight Hour show. In December, The 13th Hour: Deluxe Edition was released on vinyl for the first time. This limited edition double vinyl set features both the The 13th Hour and it's prequel, Bloodlines together.
On August 18, 2023, the band released it's 15th studio album, The Brimstone Club. The new album takes listeners on a journey through a mysterious theatre where the exotic entertainment and libations are matched only by its peculiar clientele. The Brimstone Club immediately resonated with fans around the world debuting at #2 on Billboard Magazine's Classical Crossover Charts. In support of the album, a live show entitled Echoes of the Brimstone Club debuted at Cedar Point's HalloWeekends in September.
What will they do next? Those who would like to be the first to receive updates on new music and other upcoming projects are encouraged to join the Legions of the Night community.
Midnight Syndicate Halloween Music – Gothic Fantasy Horror Soundtracks
Linfaldia Records (BMI), a division of Entity Productions, Inc.