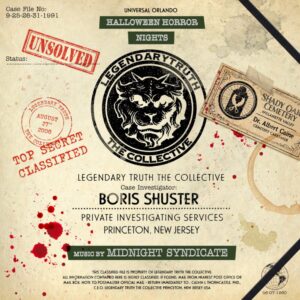 Midnight Syndicate's Halloween Horror Nights: LegendaryTruth album has been released at Halloween Horror Nights – Universal Orlando.  For the first time in Halloween Horror Nights history, fans can explore the many cases from LegendaryTruth: The Collective while discovering special, never before heard audio recordings from the unsolved case files of Boris Shuster.  This numbered, limited-edition (2000 copies), 180g vinyl album with accompanying digital download features music by Midnight Syndicate and special narrations by Rick Spencer as well as many others from behind the scenes of Halloween Horror Nights.  "This album is a "Must Have" for any Halloween Horror Nights Fan as it will take you back to some of our great stories from our earlier years," said TJ Mannarino, Vice President of Entertainment Art & Design at Universal Orlando. The album is available at both the Tribute and Five and Dime stores inside Universal Orlando while supplies last. Limited quantities are also available online at Shop.UniversalOrlando.com.
On October 5th, Gavin Goszka and Edward Douglas will be hosting a signing at the Five and Dime Store inside Universal Orlando from 6-9pm.  At least 300 copies of the album will be available for purchase by guests on that day.
Additional information on the project is available through Midnight Syndicate's newly-relaunched Legions of the Night fan community.
---