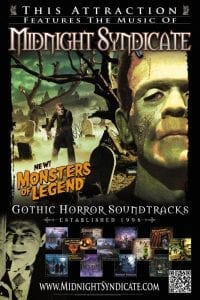 To our friends in the Haunted Attraction industry:
We do not charge licensing fees for the use of our music in your attractions. We do, however, require you register with us. If you are currently using, or plan to use, any of Midnight Syndicate's music in your professional attraction this year, please register now by clicking here. As the Halloween season approaches, we will provide you with a poster to place in an easily-visible area of your attraction.
NOTE: Midnight Syndicate's CDs are not music libraries and Entity Productions retains all publishing and performance rights. This registration does NOT pertain to the music in film, theatre productions, internet sites, commercials, or any other type of production. If you have any questions, simply contact us.
Registered Haunts
The following is a partial list of haunted attractions and amusement parks that have registered with Midnight Syndicate. If you do not see your haunt listed, please contact us. Again, we thank you for your cooperation.

Click on a state to see the Midnight Syndicate registered haunts in that state.
For haunted attractions outside of the USA, click here.
Proud recipient of IAHA's 2009 VENDOR EXCELLENCE AWARD.
Discounts available to members of HAA. For more details contact us.