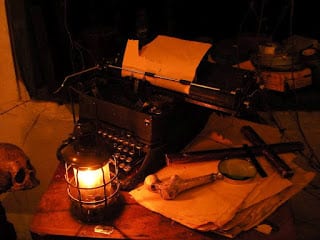 Midnight Syndicate just posted a Facebook update on their next CD.
"It's going to have a very classic horror theme to it (pre-30s, 30s, 40s, 60s, early-70s). Hammer Films have always been an inspiration for us but they played a huge part in the inspiration for this new release. The same goes for the Amicus, AIP, and European horror of that era (like Bava, "Let Sleeping Corpses Lie," "Blind Dead,"). Also big are the classic black and white Universal horror from the 30s/40s ("Dracula", "Wolfman") and horror earlier than that. If you enjoy classic horror, the classic monsters, then we think you'll enjoy what we have in store for you. If I had to compare it to other discs, it has a very Born of the Night, Vampyre, and Realm of Shadows feel to it but the sound, is uniquely it's own (big, dark, at times epic). We wanted to continue to push ourselves both sound design-wise and music-wise after Carnival Arcane and we feel we've done that. Production is really far along but unfortunately we don't have any more details right now as to a release date. We will continue to keep you informed though. Thank you again for the support!"
Production and Post-Production for Destini Beard's A Time Forgotten, the full-length followup CD to Dark Masquerade is complete. The new disc promises an immersive blend of Destini's haunting vocals and classic Midnight Syndicate tracks that together form an entirely new listening experience. A late June release date is anticipated. More details coming soon.
---