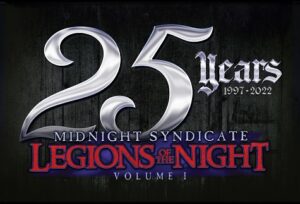 In celebration of their 25th Anniversary, Midnight Syndicate has relaunched the Legions of the Night Fan Community. Going forward Legions of the Night  will be the primary place for exclusive merch, giveaways, a private community, behind-the-scenes material, livestreams, and more.
Midnight Syndicate fans can join Legions of the Night for free here. The band will be giving away copies of Legions of the Night Vol. 1, an exclusive fan-created "best of" album to those who join.  Other exclusive merch is also be available.
"This Legions of the Night relaunch is going to give us the chance to reconnect with fans as well as offer them new content like never before," said Edward Douglas.
---