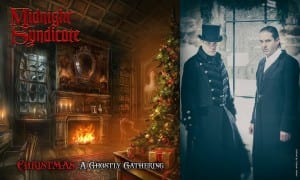 Response to Midnight Syndicate's Yuletide monsterpiece, Christmas A Ghostly Gathering, from both fans and the media has been amazing. Many people are calling it one of Midnight Syndicate's greatest albums ever! See what the media is saying below or listen for yourself via our Christmas: A Ghostly Gathering Playlist on YouTube, where you can preview ten tracks from the album set to some of the imagery that inspired the music. The album can be purchased here, or on Amazon, iTunes, and CDBaby!
Dread Central – "The masters of All Hallow's Eve have found another holiday to conquer… Midnight Syndicate have become iconic. You can count on every release to represent a specific sound that they have mastered, and that's what we have here… a haunted Christmas wonderland… If you enjoy Christmas as well as the spookier side of life, this will be an excellent addition to your collection."
Mortis Media – "A Christmas miracle… It is the ability to weave the fine line between the light
and dark sides of the holidays musically, that makes 'Christmas: A Ghostly Gathering' one of the best albums, holiday or not, that this author has heard in recent memory."
Rue Morgue Magazine – Featured Album of the Month (December 2015) – "…holiday music redone with Midnight Syndicate's unique stamp reflecting beauty, fantasy, and the supernatural. Imagine Danny Elfman and Pyotr Tchaikovsky scoring a Tim Burton version of 'Christmas Carol' and you're not far off. Ideal for horror fans wishing to add a touch of crimson and black as they gather 'round the tree this year."
Games Gazette (UK)– "This CD has transformed Christmas from the light and lyrical frolic it has become to the exciting holiday it was when we were kids. Instantly recognisable classic tunes played in a manner only Midnight Syndicate can offer and some classics in the making. The best sounds you will hear this Yule."
Dead With Dave – "The same Midnight Syndicate that set the standard for the entire Halloween music genre are doing Christmas. I'll admit, I had my doubts… until I listened to it….. I will say without a doubt in my mind that this is officially my new favorite Christmas album. I absolutely love it"!
Horror Talk – "The beauty of Midnight Syndicate's work is they're not making it obnoxiously or stereotypically bleak… they are subtle with their darkness. Midnight Syndicate constantly amazes me on one-upping their prior release, and damn if they haven't done it again here. If you are a horror fan, there is no excuse not to have 'Christmas: A Ghostly Gathering' on your shelf."
America's Most Haunted – "An instant classic. Lovers of Christmas music in general will appreciate their exquisitely produced, alternately lovely, stirring, haunting, and festive holiday reveries. Midnight Syndicate has made the season their own."
Gross Movie Reviews – "They have taken soundtracks to a whole new level with every new release and 'Christmas: A Ghostly Gathering' is no different. It not only gets the heart pumping for the Halloween season but makes even the darkest, soulless individual excited for the Christmas season. Beautiful, perfect, mesmerizing… 4 out of 4!"
Mr. Frights – "The perfect companion to any horrorfile's holiday… Easily my new favorite
Christmas album… fans old and new shouldn't be without this essential collection of music. 4 out of 4!"
City Blood – "Midnight Syndicate's take on classic Christmas carols is like nothing I've heard before… beautiful yet haunting."
Black Gate – 'Midnight Syndicate Does It Again' – "And once again, the boys deliver – in a wonderfully different and unexpected way – A Christmas album. Charmingly haunting… I honestly love every track."
Designing The Fear – "Ed and Gavin have brought the chills once again! From the moment this CD arrived it has been on constant play. There is no doubt that this will be our soundtrack from now till Christmas."
The Inscriber Magazine – "This album is a must have …The music is at times somber and morose, hauntingly beautiful, and even devilishly playful, but it is at all times very
entertaining."
Cryptic Corridor – "True re-imaginings of the Christmas songs you've heard so many times before…. For a moment I forgot that I was listening to a Midnight Syndicate record and got swept up in the majestic awe captured here…. This album defies the conventions of the Christmas albums that flood the airwaves. Bursting with creativity and imagination… a perfect alternative for anyone looking for a truly unique listening experience this holiday season."
Horror Addicts – "Midnight Syndicate have wrought their
monsterpiece."
Ramblings From The Black Lagoon – "What sets this apart from other "dark" Christmas offerings, is that Goszka and Douglas don't try to add a Halloween flavor to Yuletide tunes at all, but instead plumb the rich history of the 19th century Christmas Ghost Story genre. This is a Christmas album, through and through, not a Halloween disc in a Santa suit. There is a purely enchanting, joyous and (dare I say it) merry element that invokes a feeling of mystery, while still warming the soul. It's the musical equivalent of looking out the window onto a cold winter's night, while curled up next to a fireplace."
Knightmist – "Christmas: A Ghostly Gathering isn't your normal offering for this time of year…it can be enjoyed at any time due to the way the group worked their musical magic."
Justine's Halloween – "I wondered how they would strike that balance of Christmas themes and spooky music. It can be tricky to do a spooky take on Christmas… This album struck the perfect balance for me! The music is beautiful and strikes an eerie chord while remaining respectful to the Christmas classics."
Indie Chick – "Guaranteed
to warm even the coldest blood of your favorite dark soul or Goth this holiday season. Amazing holiday tracks!"
Two Crows Paranormal – "The album is a perfect mix of original material from the band, blended with their own take on such classics. The entire album is spectacular."
Tiffany Apan – "The soundtrack as a whole ranges from dark and sinister to absolutely beautiful and symphonic while painting a picture of a vast wintry landscape with the moon high above and a medieval
castle in the distance. (Midnight Syndicate) continues to not disappoint."
Black Veil Gothic (UK) – "If you want Christmas music with a dark feel and the cheese removed then this is for you!"
---