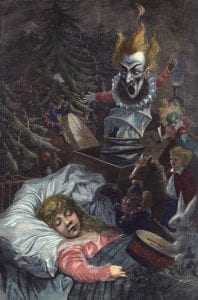 Spooky Christmas music abounds on Midnight Syndicate's haunting holiday music classic, Christmas: A Ghostly Gathering.  The album isn't as much a collection of dark Christmas music, as it is darkly beautiful Christmas music with a haunting touch. For those not familiar with the album, we encourage you to listen to the hauntingly creepy spin on Dance of the Sugar Plum Fairy on YouTube. The image above is Jules Tavernier's 1871 painting, A Christmas Dream. It first appeared in the magazine, Harper's Weekly in the 19th century. "This image by Tavernier, captures the essence of what I was going for with my interpretation of Tchaikovsky's classic," said Midnight Syndicate's Edward Douglas. "It's both beautiful and incredibly creepy."
Listen to Christmas: A Ghostly Gathering on Spotify or on our Dark Christmas playlist on YouTube.
This version of Dance of the Sugar Plum Fairy was featured in it's entirety during a memorable sequence on the television show, Happy! (Season 1, Episode 3, When Christmas Was Christmas).
---