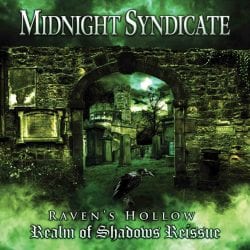 Midnight Syndicate's 2000 gothic instrumental classic, Realm of Shadows has been reissued. Raven's Hollow: Realm of Shadows Reissue includes the original recordings with a new introductory track and a previously unreleased song from the album's 1999 studio sessions entitled, Serenade. The album is available digitally through CDBaby, iTunes, and Amazon MP3, as well as being available on CD at the Midnight Syndicate Store.
Regarded by many as one of Midnight Syndicate's seminal works, Realm of Shadows was one of the albums that helped established the band's signature style and solidified their reputation in the gothic, Halloween, haunted attraction, and horror music communities. You can listen to the previously unreleased track, Serenade, on Midnight Syndicate's YouTube Channel.
Return to the shores of Arcacia as the shadows gather once more in darkened doorways and abandoned streets. Dare to venture forth and discover what secrets lie buried within….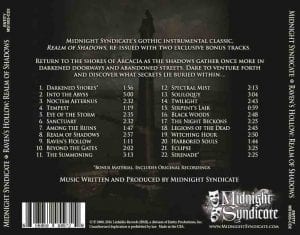 ---