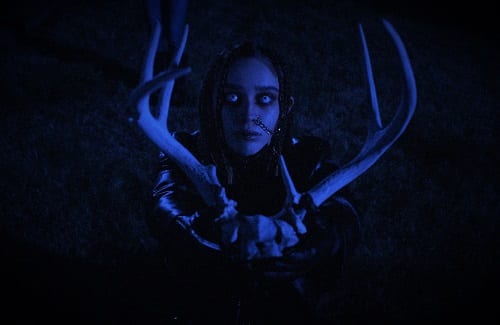 Midnight Syndicate has released a new music video for In The Forest Deep from The Rage: Original Motion Picture Soundtrack. This dark instrumental is also a part the sold-out Music of Halloween Horror Nights (2020) album which is poised for a re-release in 2021.
This music video is an original concept from director, David Lyon, and is unrelated to Robert Kurtzman's drive-in thriller The Rage (2007). David's has produced two Midnight Syndicate music videos previously (Goons and Greasepaint and Noctem Aeternus) and those can be seen on the Midnight Syndicate YouTube Channel.
Some trivia about the song and music video… In The Forest Deep was originally written as the opening title/main theme for the The Rage (2007). Although it was not included in the film, it does appear on the soundtrack. The song that was eventually chosen for the main title can be heard on here. The masked "puppet master" in the music video is known as, Dominion. Dominion first appears on the cover of the 1997 Midnight Syndicate album. Dominion also appeared in the first Midnight Syndicate concerts that were performed in March of 1998 at Cleveland's Cabaret Dada. The multimedia concerts were designed to support that self-titled debut album.
---