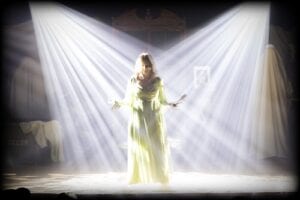 A brand new music video for Creatures of Darkness (Live) is now streaming on YouTube! The music video features scenes from the Midnight Syndicate Live! Creatures of Darkness show which debuted at Cedar Point's HalloWeekends in September of 2019. This is the third music video from Midnight Syndicate's new live album, Live Shadows.  To watch all of the videos, click here.
From the Midnight Syndicate Facebook page:
This show was a special one as it introduced new elements to the Midnight Syndicate Live! experience. Andrew Smoley of Cleveland Film Factory has once again put together a video for it we really think you'll enjoy!
Live Shadows is now available on streaming services, digitally, on CD, and limited-edition vinyl.
---