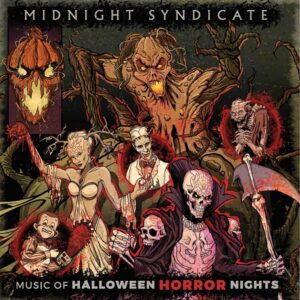 Midnight Syndicate's Music of Halloween Horror Nights album will be re-released on September 14th at Halloween Horror Nights – Universal Orlando. This limited-edition run of 1000 copies features new artwork and is pressed on golden orange vinyl. The album will be sold in the Halloween Horror Nights Tribute Store as well as online for a limited time.
On October 6th, Gavin Goszka and Edward Douglas will be appearing at the Five and Dime Store at the Universal Orlando Resort for signings at 2pm and 6:30pm. This will mark the group's first public appearance at the iconic Halloween event.
Music of Halloween Horror Nights features previously unreleased content and songs created by Midnight Syndicate specifically for Halloween Horror Nights. It also includes other Midnight Syndicate songs that have been used at the event and on the Halloween Horror Nights website since 1999. The re-release comes with a digital download that includes four bonus tracks. These four tracks were not included on the digital download from the original pressing of the album.
"We've had a special relationship with Halloween Horror Nights and the Universal Orlando Entertainment team for so many years now," said Edward Douglas of Midnight Syndicate, "With this album, Gavin and I are extremely excited to memorialize some of the cool stuff we've done together."
In the liner notes of the album, T.J. Mannarino, Vice President of Entertainment Art & Design at Universal Orlando said, "It is difficult to overemphasize how much the music of Midnight Syndicate played in the historic success of Halloween Horror Nights. Our art and design team drew inspiration from the various tracks from many of their albums as we envisioned, created, and produced early websites, attractions, scare-zones, and haunted houses. Those same sounds played throughout the event itself. Proof of this invaluable contribution is evident in this compilation of memorable cuts. To this day, Midnight Syndicate music wafts through our design studios as we imagine worlds to come."
For more information on Universal Orlando and Halloween Horror Nights, visit www.UniversalOrlando.com
---