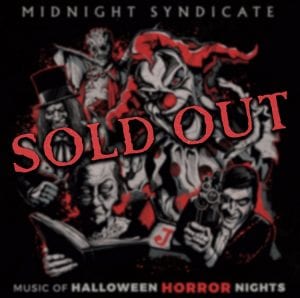 We have an update on the Music of Halloween Horror Nights. Last week, the limited-edition vinyl pressing of the album sold out in less than five hours at the Halloween Horror Nights Tribute Store in the Universal Orlando Resort.  Immediately afterwards, questions arose on when and how the album would be made available again.
Today, the band made this announcement:
The COVID-19 pandemic has brought unprecedented challenges and consequences, impacting live entertainment throughout the country from independent haunts to the large-scale extravaganzas offered by our partners like Universal Orlando and Cedar Point. We are saddened to announce that, despite our best combined efforts, the "Music of Halloween Horror Nights" release will not be available again this year. We're not ready to give up on 2020 yet, so stay tuned! Thank you, and please stay safe! – Edward and Gavin
Stay tuned for updates on this project and others here or on Midnight Syndicate's social media pages!
---