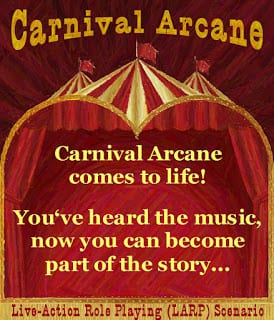 Play a character from the Carnival Arcane CD! Figments of Your Imagination has created a LARP (Live Action Roleplaying) adventure based on their take of Carnival Arcane that they will be debuting at Gen Con Indy next weekend!
From Figments of Your Imagination:
Figments of Your Imagination(FYI), a creative team of authors from Chicago, announces the first official Live-Action Role Playing (LARP) scenario set in the haunting world of Midnight Syndicate. The action takes place in 1928 on the grounds of the famous Lancaster Rigby Carnival, which is rumored to offer what no other carnival can. It is a time when the whole nation is drunk on prosperity, but darkness waits in the shadows to drown men in sorrow. The tents are up, the lights are strung, and the barker is ready to show you in…

The 'Carnival Arcane LARP' will debut at GenCon 2012 in two exclusive events on Thursday and Friday evening. Both events sold out quickly, but rumor has it that one or two extra characters are available for extremely dedicated and fortunate Midnight Syndicate fans… No LARP experience needed.

A printer-friendly GenCon preview CD that contains all the characters, plots, rules, GM notes, and other material needed to run the scenario will be on sale at Midnight Syndicate's booth (#1631) in the GenCon Exhibitor Hall. After GenCon, the LARP will be available for sale online.
For more information, please visit the FYI website.
---