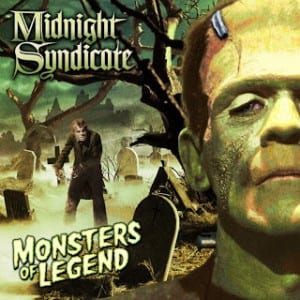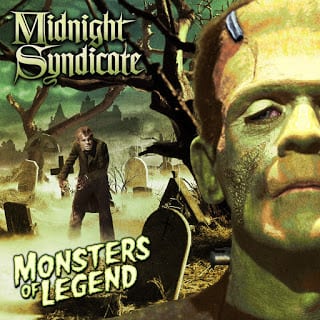 Monsters of Legend is earning high praise from both fans and critics alike.  Many are calling it the band's best, most impressive work to date.  The fiends at Dread Central lead off this second group of reviews.  Click on the links to see what reviewers are hearing and saying about the new album.   Subscribe to Midnight Syndicate's YouTube Channel to receive updates on more preview tracks in the coming weeks!
Dread Central – "This is what Midnight Syndicate does best: dark, goth instrumental orchestrations that fit a general theme and provide an excellent mental backdrop to all things horror. As evidenced by their recent forays into film scores, their compositions have thickened dramatically since the 'Born of the Night ' days, giving 'Monsters of Legend' an epic feel that fits the monsters.
'Monsters of Legend' represents the pinnacle of this kind of music. They pretty much invented it and refuse to give up the crown to any newcomers. Much like these titans of cinema, Midnight Syndicate are proving to be timeless and unshakable, continuing to provide amazing music for all of our nightmares."
Rue Morgue (Canada) – "Extremely cinematic in scope and feel, 'Monsters of Legend' is an album tailored for grown-up monster kids. It will appeal to horror fans of every shade."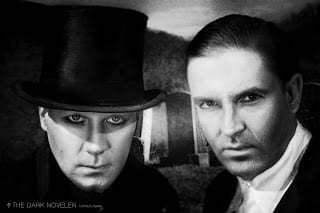 Dr. Zombie's Horror Blog – "To say that the duo of Gavin Goszka and Edward Douglas have outdone themselves is an understatement of negligent proportions. 'Monsters of Legend' is a masterpiece and the single best album of their dozen plus to date. The level of musical sophistication on 'Monsters of Legends' is far and above anything Midnight Syndicate have done previously. It is simultaneously evocative and chilling."
Black Veil Gothic (UK) – "I've listened to a lot of filmscore music and this has to be the best album for any horror film since Silva Screen produced their Hammer/Vampire compilations in the early 90′s. Midnight Syndicate's scariest symphonic monsterpiece yet!"
Ramblings from the Black Lagoon – "Syndicate's best album since 'The 13th Hour'…and that's saying something since I thought their previous offering, 2012's 'Carnival Arcane,' was a damned masterpiece! When compared against the two original albums, which this album references, you cannot help but be struck by how much this duo has evolved not only as composers, but as musicians."
Games Gazette (UK) – "…majestical masterpieces that one can envisage being heard in concert at the Royal Albery Hall or the Festival Hall (Southbank) performed by a Philharmonic Orchestra of renown… a powerful CD with a definitive theme."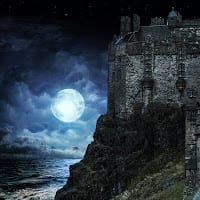 Louisville Halloween – "richer and more symphonic than anything they've released before, represents these two artists at the absolute peak of their talent. Perhaps the theme of classic monster cinema has connected with Douglas and Goszka's best childhood Halloween memories and inspired their best work to date."
Black Gate – "Midnight Syndicate has really outdone themselves this time."
Forgotten Flix – "a dark and beautiful journey through the Theater of the Mind from the biggest, and best, name in the Halloween music genre….It will leave you longing for the movies and cinematic horrors it celebrates."
Shawn "Knightmist" Micallef Blog & Reviews – "it's the perfect soundtrack for the mind. The creatures of old will certainly come to life in your imagination as you enjoy this great album."
Midnight Spookhouse – "5 out of 5 – a beautiful set of truly thought-provoking melodies but it runs far deeper and darker than that. You will literally feel the intentions of each track of the disc."
Haunt Review Crew – "a legendary piece of music!"
Plus, check out a new interview with Edward Douglas by Count Gore DeVol on Creature Feature.
---