The first trailer for the horror/creature feature Bunyan, directed by Gary Jones (Boogeyman 3, Xena, The Dead Matter), has been released by Kinetic Filmworks on their new website http://www.axegiantmovie.com/. The film (due out in late-2012) will feature a soundtrack by Edward Douglas and Midnight Syndicate.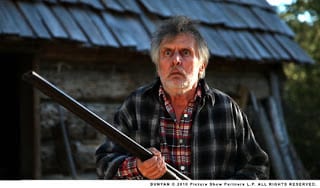 "We are excited about this first trailer and about the film," says producer Jeff Miller. "We've put a lot of time in to make the best film we could. It's been a labor of love – or as much love as you can have for a 15-foot-tall axe murderer. But we believe horror fans everywhere are gonna dig the finished product. We're also pleased to announce that Edward Douglas and Midnight Syndicate (
The Rage, The Dead Matter
) have come aboard to compose the score," Miller added.
Bunyan is a dark, contemporary take on the tall tale of lumberjack Paul Bunyan. Kids at a first-time offenders' boot camp discover that the legend of Paul Bunyan is real, but is much more horrifying than they could have imagined. They incur the wrath of the 15-foot monstrous giant, who was banished from town 100 years ago and thought dead.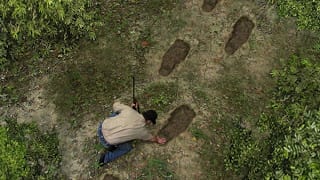 The movie stars genre vet Joe Estevez, Dan Haggerty (TV's Grizzly Adams), Tom Downey (SyFy's War of the Worlds), and Tim Lovelace (Mosquito). Amber Connor, Jesse Kove, Kristina Kopf (The Dead Matter), Cliff Williams, Victoria Ramos, Jill Evyn, and Chris Hahn round out the cast.
Bunyan is in post-production. It will be finished in the spring. Filming encompassed many locations in California, Ohio, and Michigan.
Miller (Ballistica, Hellblock 13)and Jones are producing through their
company, Kinetic Filmworks. Robert Kurtzman's Creature Corps handled the bulk of makeup FX, with Kurtzman (From Dusk Till Dawn) joining the team as co-producer. More information is available at www.axegiantmovie.com and at www.kineticfilmworks.com.
---