Big news on the Bunyan movie front. The film which was scored by Edward Douglas / Midnight Syndicate will be released in June only with a new title, Axe Giant: The Wrath of Paul Bunyan. You can check out the NEW trailer above.
Axe Giant… is a contemporary take on the tall tale of lumberjack Paul Bunyan. Kids at a first-offenders' boot camp discover that the legend of Paul Bunyan is real and must team up with the local sheriff to stop the 15-foot giant's new rampage of terror.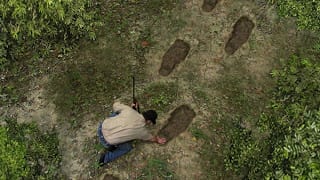 The movie stars genre vet Joe Estevez, Dan Haggerty (
Grizzly Adams
), Tom Downey (
SyFy
's
War of the Worlds
), and Tim Lovelace (
Mosquito
)
.
Amber Connor, Jesse Kove, Kristina Kopf (
The Dead Matter
), Clifton Williams, Victoria Ramos, Jill Evyn, and former WWE wrestler Chris Hahn round out the cast. This is the first major role for Kove, son of veteran actor Martin Kove (
The Karate Kid 1-3, Rambo
).
The film was produced by Jeff Miller (Ballistica, Hellblock 13) and Gary Jones (The Dead Matter, Xena, Boogeyman 3) along with newcomer and fellow writer Jason Ancona. Robert Kurtzman's Creature Corps handled the bulk of makeup FX, with Kurtzman (creator of From Dusk Till Dawn) and Philip R. Garrett (Horrors of War) joining the team as co-producers. Gary Jones' Acme Art FX created more than 500 visual effects shots for the film. The official motion picture soundtrack will be released by Entity Productions this year.
---