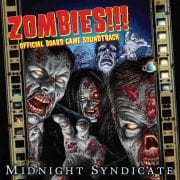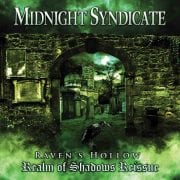 We want to take a moment to thank you for your support as we reflect upon the past year. 2016 began with the announcement of a long overdue collaboration with our friends at Twilight Creations. Creating the Zombies!!! board game soundtrack was a lot of fun and gave us the opportunity to work in a modern day setting as we put our spin on the zombie apocalypse.
This year also found us going back to our roots when we re-issued one of our very first albums, Realm of Shadows. Gavin dug through his archives and found a previously unreleased song from the original recording sessions called Serenade that we were able to add to the reissue.
August brought the unveiling of the new mobile-friendly, version our website. Thanks to the efforts of Chris at Rogues Hollow Productions and our own Sarah Mann, the website included an updated Haunted Attraction Registry, photos section, and Shop, among other things. As is the case in many years, we were fortunate to see some of you in person at the conventions we attended throughout the year. In addition to the TransWorld Haunted Attractions Show in St. Louis, Monsterpalooza, Midwest Haunters, GenCon, DragonCon, Spiel, and Mask Fest, we had the chance to be guests at the first Rue Morgue Dark Carnival Expo, which was a lot of fun. A lot of our time in the closing months of the year has been spent finalizing our plans for 2017.
2017 will mark the 20th anniversary of our self-titled Midnight Syndicate debut. We'll be taking this opportunity to look back over these past 20 years, share memories, images, previously unreleased music, and more so please stay tuned!
Again, thank you for your support and for being a part of this journey. We wish you and yours a wonderful holiday season and happy new year. See you in 2017!!
---