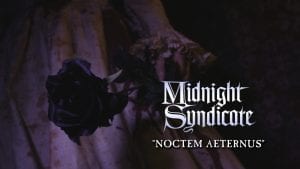 Midnight Syndicate has released a brand new music video for their song Noctem Aeternus. One of the first written for the Realm of Shadows album, this song features the haunting piano and choir that later became synonymous with the band's sound. The music video is written and directed by Dave Lyon.
Some song trivia… In 2001, Noctem Aeternus became the first Midnight Syndicate song to appear in a movie when it was used as the opening credits in Vampire Resurrection starring Denise Duff. In 2014, it was featured in Midnight Syndicate Live!, making it one of the first Midnight Syndicate songs performed live by the band.
This song is available on Midnight Syndicate's Raven's Hollow: Realm of Shadows Reissue. An alternate version appears on both the Out of the Darkness: Retrospective (1994-1999) and Halloween Music Collection compilation albums.
---