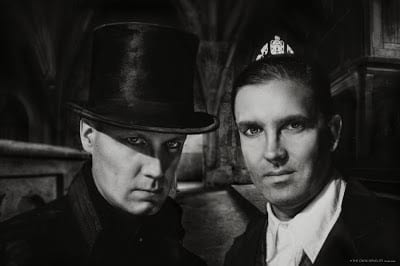 Many are calling
Monsters of Legend
one of, if not the, best Midnight Syndicate release to date. "The feedback we've been receiving from the fans and press alike has been overwhelming," said Edward Douglas. "We couldn't be happier with the response." Read on for more reviews from the heavy metal, Halloween, haunted house, and horror press as well as a new interview in
Scary Monsters Magazine
!
Halloween Overkill – "…you will be instantly transported to a foggy cliffside castle, or a romp through an ancient european forest, or even perhaps a creepy old village where something is 'not quite right'. Easily one of my favorite Midnight Syndicate releases. 5 out of 5."
Dead With Dave (Video Review) – "One of the most compelling Halloween CDs I have ever heard. In all reality, I expected nothing less from the kings of the Halloween music industry." Following the review be sure to check out a really slick promo video for Black Woods featuring horror film classic clips from over the decades!
Kingdom Horror – "The atmosphere in 'Monsters of Legend' explores classic horror and takes a journey through conventional inspiration in what may be the finest display of gothic music ever produced. 'Monsters of Legend' and the evil geniuses behind its creation that have entertained audiences for over a decade will become timeless tributes to the genre that has fascinated audiences for over a century."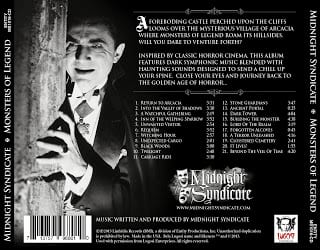 Terror From Beyond the Daves – "The official start of the Halloween season. It perfectly blends atmospheric music inspired by your favorite Universal and Hammer films with sound effects, creating the perfect background, for either your yard haunt or just to listen to as you are driving!"
Darkest Jack – "This is a must have for any horror fan… It's what they do best at their best. Monsters of Legend is destined to become a legend in its own right."
Hammer Horror Podcast (Australia) – A really interesting review from podcasters listening to Midnight Syndicate for the first time. The team includes a scholar of Hammer Films (who shares some great info on Hammer composers) as well as two promo producers. A unique perspective. Glad they enjoyed it!
Horror Talk – "With 'Monsters of Legend', the band has completely knocked it out of the park… they have taken it to another level."
Bite Size Music Reviews (Mantaray Pictures) – "…their most accomplished work. If you are a lover of horror films in any capacity, you'll cherish their latest"
Metal Asylum – "8.5 out of 10"
Pop Culture Review – "If you are making plans for a Halloween party this October, Monsters of Legend is the perfect background music for the season."
The Year of Halloween – "Particularly, "Black Woods" and "It's Alive!" had me giving Midnight Syndicate a standing ovation"
Scary Monsters Magazine (Issue #89) – interview with Edward Douglas
Legends of Horror – showcase on Midnight Syndicate
---