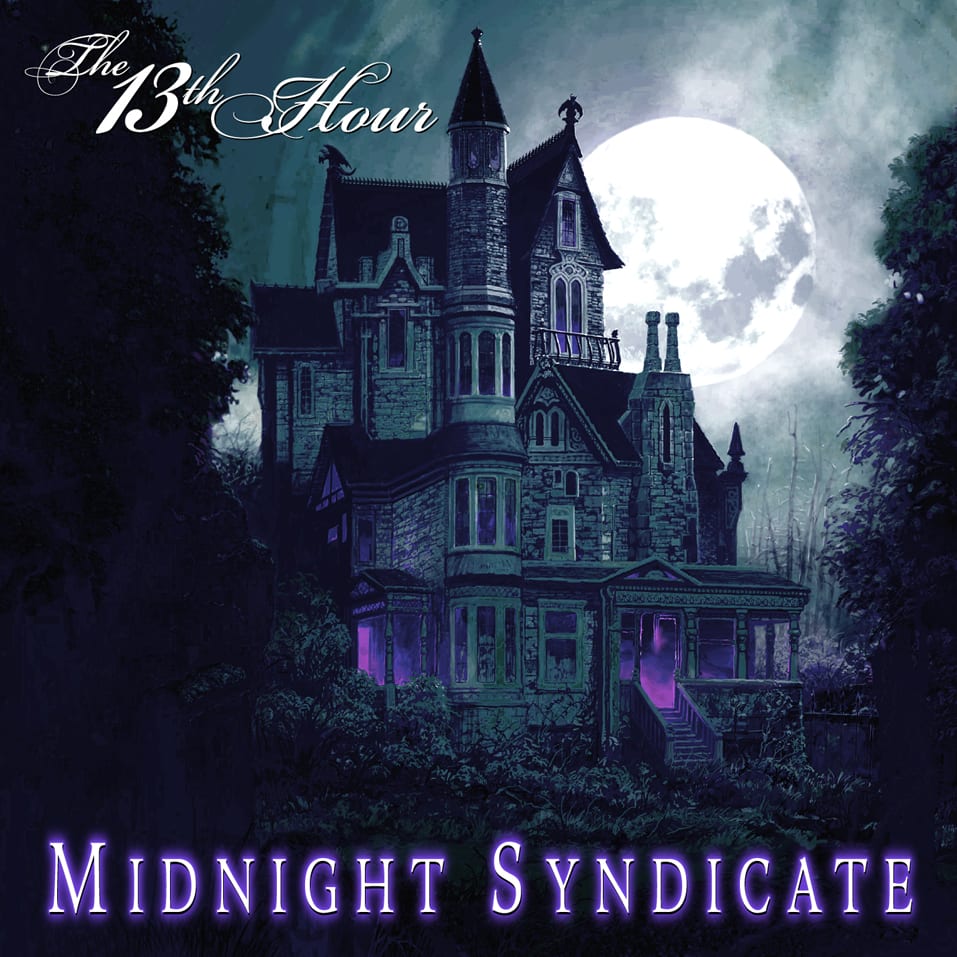 ---

Chiller Cinema – The 13th Hour is the latest release from the Midnight Syndicate crew, and is perhaps their strongest album to date. The 13th Hour tells the story of a run down mansion that lies forgotten in the woods near an old asylum. This mansion is the Havergast Mansion, a place steeped in mystery and secrecy. Legend has it tragedy befell the Havergast family, and the place disappeared into the mists of time. On certain nights, however, the boundaries of time are broken, and the mansion comes alive to relive those final days. This is the story of The 13th Hour.
Midnight Syndicate is Edward Douglas and Gavin Goszka. The two have created an album of horror movie-style music, chilling and beautiful, gothic and haunting. The dark orchestration is offset with ominous voices, chanting choirs, and various sound effects that all work together to bring the story of the Havergast family to life. From the beginning tracks where you hear the cautious approach toward the mansion through the dark and twisted path, the tension mounts. The listener can almost visualize the story as the album progresses and the Havergast family meets their doom, leading up to the final, frantic track, The 13th Hour, when the temporary existence of the Havergast family ends with the story of their final days told.
All music is created by Edward Douglas and Gavin Goszka, with additional vocals by Lily Lane, David Jacobs, Greg Ballato and Mary Kate Douglas. Douglas and Goszka have stretched their sound on this cd, incorporating a number of instruments, effects, and arrangements, even adding a John Carpenter-esque touch in places. Douglas mentioned that it was his goal to create the ultimate haunted house album with this outing, and he may just have succeeded. There are some genuinely scary, hair raising tracks on this disc.
The artwork features a gorgeous rendition of the Havergast mansion – a dilapidated gothic mansion lit from within by an eerie purple glow and silhouetted by a full moon. It is painted by Keith Parkinson. Additional photography for the CD was done by Anthony Gray.
The 13th Hour is available at all Hot Topic stores as well as most stores that carry Halloween merchandise. It is a terrific album and well worth searching out. The 13th Hour – highly recommended for all horror and Halloween fans!
Dr. Gangrene – Chiller Cinema
---

Creature Feature – I am sitting in front of my computer listening for the 6th or 7th time to this new release from Midnight Syndicate and I'm mesmerized! Yes, they've done it again. Edward Douglas and Gavin Goszka have created another horror music masterpiece!
For those not familiar with their previous work, let me say that Midnight Syndicate single handedly created a whole new genre of music. Yes, there were some really good horror movie soundtracks prior to 1997, but the only songs that were targeted directly at Halloween festivities were usually novelty hits like, The Monster Mash. But then along came Born of The Night and suddenly (after a lot of hard marketing work) the concept of Halloween and horror specific music took off.
There soon followed Realm of Shadows, Gates of Delirium, and Vampyre! Each CD created an audio picture and story, blending gothic orchestrations and effects to brings chills and nightmares to the listeners. Needless to say, haunted attractions around the world soon discovered the power behind the music of Midnight Syndicate!
In 2002, Midnight Syndicate created for Hasbro Games and Wizards of the Coast, the first official soundtrack to the role playing game, Dungeons and Dragons. It sold in record numbers! With The 13th Hour, their musical richness and complexity reaches new heights as they set this album in a haunted Victorian mansion. The orchestration is enhanced by a subtle and sometimes not so subtle mix of appropriate sound effects. The CD creates a sound palate to die for. You can literally sit back, close your eyes and let each cut create its own story, just like visiting a haunted mansion in your mind! It's so powerful you might wonder why no one has made of movie to go with this soundtrack!
To take this CD to new heights, they added the vocal talents of Lily Lane, David Jacobs, Greg Ballato and Mary Kate Douglas. Twenty-four of the twenty-five cuts on the CD were written by Midnight Syndicate. Hand in Hand Again, however comes from a 1920 recording by Albert Campbell and Henry Burr, which has been been suitably adopted for this very 21st century recording. It's down right spooky.
The 13th Hour is great, gruesome, Gothic fun! It is a MUST HAVE in any horror fan's music collection! And, come Halloween, you'll be glad you took my advice. Heck, here's even better advice, go buy them all….you won't be sorry!
Count Gore De Vol – Creature Feature
---

Darklife Magazine (#11) – "Some of the highest quality gothic-horror soundtrack type music is included in this album, the 7th full-length release by this Ohio based duo, who have built an impressive reputation with one album after the other of fantastic works. 'The 13th Hour' sports a maturity in the duo's compositions that surpasses any work they have done so far. It sounds a bit odd to say that, since their previous works (which we have had the honor to review at 'Darklife') are all outstanding albums as well. Orchestrations in 'The 13th Hour' reach epic dimensions, re-creating the purest gothic atmospheres ever committed to score. Haunting passages, mysterious shadows in the night, the mansion is sinister and seducing at the same time. It's grandiose and magnificent, it's imposing, it holds secrets of generations, it's chilling and menacing. A fantastic nighttime opus, one that will titillate your darkest fantasies, offering visions out of a world that is long gone."
Gianfranco – Darklife Magazine (Germany)
---

Games Gazette #145 (UK) – Haverghast Mansion is an old Victorian building that stands solitary on a small hill surrounded by dense undergrowth and tall dark trees. As the moon creeps up behind it and eerie purple light is emitted through the front door and windows. Is it a trick of the light taking its colour from the deep heather growth and purple flowered shrubbery, or is it an unnatural essence, a haunting presence living in the deserted, bell-towered expanse of brick, mortar, and who knows what else?
Midnight Syndicate are already renown for their brilliant suspense-filled background music that has taken role-playing to new heights (and even higher screams) and it's no wonder they are scripting the music for a new horror movie.
The 13th Hour is music created for use as an atmosphere setter in Call of Cthulhu role-playing and has been approved for use by Chaosium. This doesn't mean you can't play it for any other game – though obviously it has a Gothic Horror background – or just put it in your CD player for come instrumental music while you work.
All of the tracks are original recordings and are mostly written by Edward Douglas and Gavin Goszka. There is a faint resemblance to Tubular Bells (used in The Exorcist movie) and a lot of the music, althrough original, does sound (as it SHOULD and as it is intended) like the incidental background to every great horror movie you have ever seen – only now you can put a title and artist to it. Also featured throughout (voices and effects) are Lily Lane and Greg Ballato (of the band Lazy Lane), David Jacobs, and (introducing) Mary Kate Douglas.
The definitive CD to chill out to – it will chill your blood, tingle your spine and give you a bad case of the willies. This is what the Old and Deep Ones hum to when they drink in the Arkham Arms on a Saturday night.
Chris Bayliss – Games Gazette (UK)
---

Gothic Beauty Magazine (#19) – "Midnight Syndicate has been making Halloween fantasy soundtracks since 1997; they're the originals and the plot keeps thickening. The 13th Hour returns us to the decaying Haverghast mansion, where a dreadful past is revealed and displaced spirits return for revenge. With just this outline and song titles for starting points, the music inspires you to imagine the horrific story it tells. It's captured in fragments of sad, fractured piano, sinister organ and chimes, paranoid atmospheres, and bells that shouldn't be ringing like that. The Cellar and the ghostly phonograph in Hand in Hand Again are hair-raising and worth the price of admission."
Carolee – Gothic Beauty Magazine
---

Mourning the Ancient – "The 13th hour has finally struck. I've waited quite a while for this new effort by one of the greatest ambient bands of all time… and was it ever worth it. They continue to impress me every work. 'The 13th Hour' is a beautiful and haunting sea of sounds and emotions. The music, delicate and sinister is top notch. Instantly a classic, this CD puts Midnight Syndicate in a class all their own. One listen and you'll agree, this is a superb creation, the talent of Edward and Gavin (the two minds behind this) is truly outstanding. What more can I say… do yourself a favor, get this!"
MB – Mourning The Ancient E-zine
---

Nightmare City Halloween – The 13th Hour is Midnight Syndicate's finest recording to date. It's as if they summoned the spirits of all the greatest horror composers to create an epic album.
This music has it all – from soaring orchestral sweeps to swelling pipe organ surges to piano strikes with a haunted touch.
The spooky sound effects serve to enhance the listening experience and make this album perfect for any eerie event and an instant Halloween classic.
Stev0 In Yr Stereo – Nightmare City Halloween
---

Paragon Magazine #24 – Midnight Syndicate's latest album continues the band's tradition of every disc being centered around a major theme and setting. On The 13th Hour, the band introduces us to the haunted Haverghast Mansion. Starting off with a couple of tracks full of sound effects that make you feel like you're walking through the gates of the mansion, track 3 is the first musical track. Fallen Grandeur is a Bach-like organ-driven piece. The Drawing Room is especially eerie, with a piano being played ever so slowly, somewhat clumsily, and echoing throughout the entire track. Makes you picture a little girl sitting at the piano in a large, open room, trying to learn how to play. And that's what I like about Midnight Syndicate-they get your imagination going. It could be broad daylight and this album will still give you the heebie-jeebies. I love Family Secrets-its piano and violins are excellent. Midnight Syndicate's music is not just gothic, macabre, and haunting sound effects, it's music, and the music is what I love most about the band.
I have to mention Last Breaths, a 21-second track of someone breathing and then gasping suddenly at the end. I have to admit, I had the volume up to hear it better, and yes, it made me tense up. Here's a word of advice: If you're going to listen to this album, keep in mind that reading the song titles along with listening to the tracks forces you to conjure up images and ideas that maybe you wouldn't have thought of in the first place if you had just listened, so you may want to pass on the titles the first time around. To top it off, you're listening to sound effects on the CD, and before you know it, you don't know what you're hearing on the CD and what you're really hearing in the room you're in. Yes, it screws with you that much, especially if you're a pansy like me (haha). Never knowing what to expect, a song can be playing before it stops abruptly and the horrific sound effects start-Case in point: Footsteps in the Dust.
For a real thrill, listen to this album in a dimly lit room with surround sound. The slight whispers on some tracks will make you jump out of your seat. Visit the band online at www.midnightsyndicate.com to find out where you can purchase the album.
Rating: 5 out of 5 !!!
Lisa – Paragon Magazine
---

Side-Line Magazine (#52) – "Set in the personal residence of the doctor who created the legendary Haverghast Asylum (the setting for Midnight Syndicate's fourth disc, Gates of Delirium) this imaginary film soundtrack brings you way back to the Victorian age. Being extremely filmic of course it is very easy dwelling around in the world created by Edward Douglas and Gavin Goszka, it is as if you see everything through their eyes because the music is extremely well adapted to the scenes. The material is extremely developed with a richness of sounds that most soundtracks don't even have. Listen to the piano-driven Footsteps in the Dust and you will quickly realise that MidSyn goes further than most soundtrack composers. Everything remains very bombastic and is enveloped by a gothic atmosphere that even puts Lacrimosa in a pale shadow. Personally I feel that the band is at it's best on tracks such as Harvest of Deceipt, very dark, yet very subtle and enchanting without being too goth. Also included is Hand in Hand Again, a track originally recorded in 1919. It is a very weird experience hearing this, "long time no hear or see" is the least one can say. It's something the band may do again as for many it will be the sole experience they will ever have with such long-forgotten material. Midnight Syndicate remains a unique experience with a unique career."
Bernard – Side-Line Magazine
---

Space Junkies (Halloween 2005 Issue) – "When you get a MIDNIGHT SYNDICATE CD in the post, you know you're getting top-notch, high quality music that will move you in ways you didn't know music could. The 13th Hour is haunting, so much so that I had chills running up and down my spine and goose bumps on my arms through the duration of listening to the complete album! I can't say that I've ever had that experience listening to anyone else's music, only MIDNIGHT SYNDICATE could pull off such a feat. I'd love for someone to make an opera or play out of their music, maybe even a movie. This music is perfect for a really good creepy movie that you walk away from spooked because your mind is having a hard time distinguishing between what's "real" and what's "fiction." This particular album according to the description on the back is about 'the legend of Haverghast Mansion…a Victorian mansion with a sinister history.' That's a very believable description if you ask me. I couldn't praise this album more; it's truly an epic masterpiece, just like all their others."
Wednesday Elektra – Space Junkies