Midnight Syndicate's MONSTERS OF LEGEND!
"…a dark and beautiful journey through the Theater of the Mind from the biggest, and best, name in the Halloween music genre….It will leave you longing for the movies and cinematic horrors it celebrates." – Forgotten Flix
"
…their most elaborate and entertaining creation to date
." – FEARnet
"'Monsters of Legend' represents the pinnacle of this type of music. They pretty much invented it and refuse to give up the crown to any newcomers. Much like these titans of cinema, Midnight Syndicate are proving to be timeless and unshakable, continuing to provide amazing music for all of our nightmares." – Dread Central
"… their most accomplished and genius oeuvre." – Side-Line Magazine (Belgium)
Title: Monsters of Legend
Code: MS1016-CD
UPC: 713757968010
Featuring the iconic Universal Monsters, this epic Halloween music masterpiece has become Midnight Syndicate's most critically-acclaimed album to date. A tribute to the golden age of horror films, this album will have you and your customers feel like they have entered the world of The Wolfman, Frankenstein, Dracula, and more!
LISTEN TO SAMPLES
It Lives!
Carriage Ride
Twilight
Stone Guardians
Lord of the Realm
READ MORE REVIEWS!
FOR IMMEDIATE RELEASE
Contact: Sarah Mann
Email: sarah@midnightsyndicate.com
Midnight Syndicate releases MONSTERS OF LEGEND album
July 19, 2013 (Cleveland, OH) – Symphonic gothic horror musicians MIDNIGHT SYNDICATE have just released their sixteenth studio album, MONSTERS OF LEGEND. This "tribute to the golden age of horror" is inspired by horror films from the silent era, Universal Studios' horror classics, Hammer Films, and other European horror films of the 60s and 70s. It features sweeping symphonic horror instrumental music and sound effects in the signature style the band helped pioneer. "We want to make you feel like you are a character in one of those classic horror films – that you've entered a world where any one of those iconic Universal monsters could be right around the corner," said composer EDWARD DOUGLAS. The CD artwork features original images from classic Universal Studios horror movies including BRIDE OF FRANKENSTEIN, WEREWOLF OF LONDON, and DRACULA.
"Those classic horror films are at the core of what we do in Midnight Syndicate, so to do an entire disc based on them was a lot fun," added Douglas. "Musically it required us to use more traditional orchestral instruments, and use them in more ways than we have in the past. The result is a fuller orchestral sound with a heavy classical music influence. There are plenty of nods to James Bernard, Bernard Herrmann, and other early film composers." Although the band promises the new disc will deliver the dark atmosphere haunted house designers, roleplaying gamers, and Halloween music enthusiasts expect from them, they feel they've crafted a disc that transcends their favorite time of the year. "Like CARNIVAL ARCANE, we feel we've taken things up a notch both musically and with the sound design on this release," said GAVIN GOSZKA. "There's a lot there to listen to and lose yourself in."
In addition to over 50 minutes of new music, the band went back into its archives and recreated several tracks from its early releases Born of the Night and Realm of Shadows, bringing the total runtime of the disc to over 65 minutes. "Both the new album and those older ones are set in and around the mysterious hamlet of Arcacia. We felt it would be a great opportunity to breathe new life into a few of our lesser known tracks from those discs to help tell this story. For additional atmosphere the band called on voiceover artist Dick Terhune. "Dick's known throughout the haunted house industry as the "Voice from Hell," needless to say he was the perfect match for this disc," added Goskza.
The CD is available now through the band's website, as well as iTunes and Amazon.com. It will also be available in select Halloween retailers beginning in August. A collector's edition 12″ vinyl version is also available on the band's site.
— 7 / 19 / 13
Official Midnight Syndicate website: www.MidnightSyndicate.com
Midnight Syndicate on Facebook: www.Facebook.com/MidnightSyndicate
Midnight Syndicate on Twitter: www.Twitter.com/MidSyndicate
Dick Terhune – Voice From Hell website: www.VoiceFromHell.com
FOR ADDITIONAL PHOTOS AND INFORMATION, OR TO SCHEDULE INTERVIEW, PLEASE CONTACT US.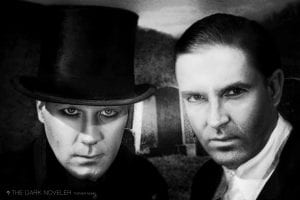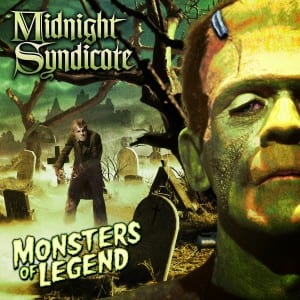 MIDNIGHT SYNDICATE
For almost two decades, composers Edward Douglas and Gavin Goszka have been known as Midnight Syndicate, creating symphonic soundtracks to imaginary films that facilitate a transcendental and adventurous escape into the secret dimensions of the mind's eye. To many of their fans, they are Gothic music pioneers brewing a signature blend of orchestral horror music and movie-style sound effects. To others, they remain the first "haunted house band" that forever changed the Halloween music genre and became a staple of the October holiday season. And some know them as the duo that teamed up with Hasbro and Wizards of the Coast to produce the first official soundtrack to the legendary Dungeons & Dragons roleplaying game. Their critically-acclaimed works are reminiscent of sweeping, complex masterpieces by artists such as James Horner, Danny Elfman, Black Sabbath and King Diamond and have been featured as a part of films, television shows, video games and at haunted attractions, amusement parks, and live performances worldwide.
Midnight Syndicate's music has become integral to setting a powerful mood at top-rated haunted attractions and amusement parks as well as at costume shops, gaming and Halloween parties and Halloween-themed cruises from Siberia and Hong Kong, to Europe and the United States. The duo has released 15 studio albums since 1997, and Douglas and Goszka's original, work also been used at Hugh Hefner's Halloween parties, on episodes of The Barbara Walters Special and in the drive-in film The Rage, Universal Studio's Horror Nights XVIII as well as by Monday Night Football and by artists Insane Clown Posse, Three Six Mafia, Twiztid and The Misfits. In 2010, Midnight Syndicate released a full-length horror film called The Dead Matter, directed, scored and co-produced by Douglas alongside Robert Kurtzman (From Dusk Till Dawn, co-founder, KNB FX)
and Gary Jones (Xena, Boogeyman 3).
Midnight Syndicate continues to pursue its quest to use instrumental music to tell explicit stories full of tension, twists and turns. Most recently, the band completed the score to the grindhouse thriller Axe Giant: The Wrath of Paul Bunyan. In summer, 2013, Midnight Syndicate will release the soundtrack to that film along with Monsters of Legend, a tribute to the classic Universal, Hammer and Euro horror films that gave birth to horror cinema, which will include officially-licensed images from the Universal Studios vaults.
CREDITS
DISCOGRAPHY
Monsters of Legend (2013) : Composer / Producer : Midnight Syndicate
A Time Forgotten (2012) : Composer / Producer : Midnight Syndicate
Carnival Arcane (2011) : Composer / Producer : Midnight Syndicate
The Dark Masquerade EP (2010) : Composer / Producer : Midnight Syndicate
Halloween Music Collection (2010) : Composer / Producer : Midnight Syndicate
The Dead Matter: Cemetery Gates (2008) : Composer / Producer : Midnight Syndicate
Out of the Darkness (2006) : Composer / Producer : Midnight Syndicate
The 13th Hour (2005) : Composer / Producer : Midnight Syndicate
Dungeons & Dragons (2003) : Composer / Producer : Midnight Syndicate
Vampyre (2002) : Composer / Producer : Midnight Syndicate
Gates of Delirium (2001) : Composer / Producer : Midnight Syndicate
Realm of Shadows (2000) : Composer / Producer : Midnight Syndicate
Born of the Night (1998) : Composer / Producer : Midnight Syndicate
Midnight Syndicate (1997) : Composer / Producer : Midnight Syndicate
FEATURE FILMS (ORIGINAL MUSIC)
Axe Giant: The Wrath of Paul Bunyan (2013) Composer : Director: Gary Jones – Kinetic Filmworks
The Dead Matter (2010) Composer : Director: Edward Douglas – Midnight Syndicate Films
The Rage (2007) Composer : Director: Robert Kurtzman – Precinct 13 Entertainment
TELEVISION (LICENSED MUSIC)
Making Monsters : Additional Music : SyFy
Ellen Degeneres Show : Additional Music : ABC-TV
Monday Night Football : Additional Music : ABC-TV
NBA on TNT : Additional Music : TNT
Barbara Walters 10 Most Interesting People : Additional Music : ABC-TV
Travel Sick : Additional Music : Travel
The Possessed : Additional Music : SyFy
VIDEOGAMES (LICENSED MUSIC)
Baldurs Gate 2: Dark Alliance : Additional Music : Interplay
Shadowbane 2 : Additional Music : Wolfpack Studios (Ubisoft)
CLIENTS (ORIGINAL MUSIC)
Universal Studios Orlando – Halloween Horror Nights
Wizards of the Coast, div. Hasbro Properties, Inc.
Border Foods
CLIENTS (LICENSED MUSIC)
Anheuser Busch Entertainment (Busch Gardens theme parks)
Universal Studios
Ripley Entertainment
Six Flags
Cedar Faire
Carnival Cruiselines
Sirius / XM
Muzak / Mood Media
Madame Tussaud's (Sudden Impact Entertainment)
Movie Park Germany
Kennywood
Party City
Spirit Halloween
Hot Topic
Heineken International
Sony BMG (Three 6 Mafia)
Misfits Records (Misfits)
Over 600 independent haunted attractions worldwide
AWARDS
Independent Filmmakers Hall of Fame, Scoring – Indie Gathering Intnl. Film Festival (2013)
Best Horror Soundtrack, Carnival Arcane – Rondo Hatton Classic Horror Awards (2012)
Best Score, The Dead Matter – Late Night Horror Film Festival (2011)
Best Score, The Dead Matter – Golden Cob Awards (2011)
Best Director, The Dead Matter – Full Moon Horror Festival (2011)
Best Film, The Dead Matter – Full Moon Horror Festival (2011)
Vendor Excellence Award, Midnight Syndicate – IAHA (2009)
Most Interesting People – Cleveland Magazine (2008)
Best Gaming Accessory, Midnight Syndicate The 13th Hour – Ennies Awards (2006)
Best Gaming Accessory, Midnight Syndicate The 13th Hour – Origins Award (2006)
Visionary Award – Cleveland Smart Business (2006)
Innovation Award – Cleveland Smart Business (2005)
Best Gothic Act, Midnight Syndicate – Cleveland Scene Music Awards (2001, 2004)
Best Gothic Act, Midnight Syndicate – Cleveland Free Times Music Awards (2001, 2002)