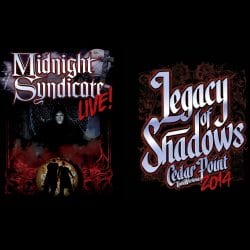 ---

Barrel O' Fun – Many fans of Midnight Syndicate have described their albums as "theater in the mind's eye" or "soundtracks to movies that don't exist." Even if their name isn't familiar, you may already know the duo as their music is played in many, if not the majority, of haunted houses and amusement park Halloween events around the country and beyond.
I have been a fan of Midnight Syndicate for many years and I have used their music for my home haunt long before I became friends with Ed Douglas (who is a DAFE member by the way). I'm pleased to say that DAFE had some influence on several of the tracks on their album Carnival Arcane as well.
Having "seen" their "movies" with my eyes closed while listening to their CDs, I had to wonder what it would be like to see them perform a live show. It would be no easy task as simply watching them perform on stage would take the magic out of the music. No, a stage show would have to go well beyond "two guys with keyboards."
Early in 2014, Midnight Syndicate created a Kickstarter project to fund a live show. Mere days, and a few dollars short of their goal, the Kickstarter funding was killed off. Why? "You can't tell anyone!" Ah, the joys and stress created by having trusting friends in the industry! While I couldn't tell our members the wonderful news I'd heard, I was thrilled to hear that it was much better than I imagined!
Cedar Point was interested in having Midnight Syndicate create and perform the show live on their stage, not once, but several times a day, every day during their Halloweekends event!
With a venue set, Ed and Gavin Goszka had a monumental task ahead of them. With the aid of the set designers at Screamline Studios, filmmaking brothers Andrew and Martin Smoley of 529 Films, the makeup team at Robert Kurtzman's Creature Corps, and a cast of dozens of "haunters" (myself included – I had a short cameo in the production), they spent the summer working out the script, building sets, and filming at various locations in Ohio. While different from his typical job as a composer, directing this multimedia show was nothing new for Ed. In addition to producing and co-composing 16 albums with Gavin, Ed had directed, edited, and co-produced the movie The Dead Matter as well as a similar multimedia Midnight Syndicate show back in 1998.
As I previously mentioned, merely playing before a live audience would not do this duo justice. This would be a major multimedia production with some interesting twists.
Entering Cedar Point's "Ghoul Time Theater," the audience was seated, not knowing what to expect. There was time to marvel at the wonderfully detailed set as the guests watched a video camera operator and his director fine-tuning the camera and getting a few crowd shots in preparation for the show. Large video screens to the left and the right of the stage alternately showed the Midnight Syndicate logo and the live shots of the audience. Oddly, once in a while there seemed to be some technical glitches with the video.
Soon, the house lights faded and Ed and Gavin (their characters are nameless) appeared dramatically from the set and took their places at the keyboards, playing some familiar pieces that we fans love. The audience would soon realize that this (about) 25 minute show would involve more than just listening to some haunting music. The live music, recorded and live video, fog, lighting and special effects would soon suspend reality and engulf the audience. The wonderful Emily Viancourt would glide onto the stage with her haunting voice to add another dimension to this gothic experience. Soon the line between fantasy and reality would be blurred. (Sorry, no spoilers!)
Was the show scary? Some people thought so! It seems every show had a few people leaving early (though mostly younger children). For those who stayed, the show wasn't truly over. Unlike most "stars," Ed and Gavin did not retire to their dressing room for a well-deserved break, both were on hand to greet their fans, pose for photos and sign autographs. Those creepy guys are, in reality, very friendly and appreciative of their fans.
They also brought along plenty of CDs, posters, T shirts, hats and other items to sell as well.
My question to them was "How do you top this?" There was no immediate answer, but I'm sure they will come up with something. Until then, cross your fingers and hope that this is only the FIRST presentation of the show and that they may take it on the road in the future.
By Rick Davis – Barrel O' Fun Magazine