FOR IMMEDIATE RELEASE
Contact: Sarah Mann
Email: sarah@midnightsyndicate.com
Midnight Syndicate releases original motion picture soundtrack to
AXE GIANT THE WRATH OF PAUL BUNYAN
August 16, 2013 (Cleveland, OH) – Symphonic gothic horror musicians MIDNIGHT SYNDICATE have just released the AXE GIANT THE WRATH OF PAUL BUNYAN: ORIGINAL MOTION PICTURE SOUNDTRACK. The album, produced by Midnight Syndicate, features highlights from the movie score composed by EDWARD DOUGLAS along with The Ballad of Paul Bunyan performed by HICK'RY HAWKINS.
"From a simple flourish of strings to behemoth bass horns on the rampage, the score is everything I hoped it would be and more," said director and co-writer Gary Jones. "The perfect marriage of sight and sound, Ed's music carries our film into that cool, cool realm of which filmmakers only dream."
"Gary wanted the film to have a feel similar to classic monster movies like King Kong. I found myself trying to channel my inner (Max) Steiner and (Bernard) Herrmann, in an effort to achieve that big, dramatic, classical sound," said composer Edward Douglas. "The monster in the film is American folklore legend, Paul Bunyan, so it gave me the opportunity to work with some 19th century American instrumentation as well. I think the result is a soundtrack that will sound both familiar and at times very different from what Midnight Syndicate has done to this point."
The CD is available now through the band's website, as well as iTunes and Amazon.com.
— 8 / 16 / 13
Official Midnight Syndicate website: www.MidnightSyndicate.com
Midnight Syndicate on Facebook: www.Facebook.com/MidnightSyndicate
The Axe Giant official movie website: www.AxeGiantMovie.com
Hick'ry Hawkins on YouTube: http://www.youtube.com/user/hickryhawkins
FOR ADDITIONAL PHOTOS AND INFORMATION, OR TO SCHEDULE INTERVIEW, PLEASE CONTACT US.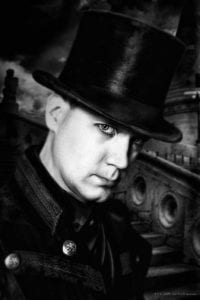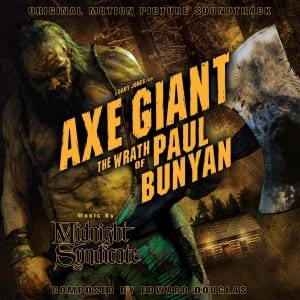 MIDNIGHT SYNDICATE
For almost two decades, composers Edward Douglas and Gavin Goszka have been known as Midnight Syndicate, creating symphonic soundtracks to imaginary films that facilitate a transcendental and adventurous escape into the secret dimensions of the mind's eye. To many of their fans, they are Gothic music pioneers brewing a signature blend of orchestral horror music and movie-style sound effects. To others, they remain the first "haunted house band" that forever changed the Halloween music genre and became a staple of the October holiday season. And some know them as the duo that teamed up with Hasbro and Wizards of the Coast to produce the first official soundtrack to the legendary Dungeons & Dragons roleplaying game. Their critically-acclaimed works are reminiscent of sweeping, complex masterpieces by artists such as James Horner, Danny Elfman, Black Sabbath and King Diamond and have been featured as a part of films, television shows, video games and at haunted attractions, amusement parks, and live performances worldwide.
Midnight Syndicate's music has become integral to setting a powerful mood at top-rated haunted attractions and amusement parks as well as at costume shops, gaming and Halloween parties and Halloween-themed cruises from Siberia and Hong Kong, to Europe and the United States. The duo has released 15 studio albums since 1997, and Douglas and Goszka's original, work also been used at Hugh Hefner's Halloween parties, on episodes of The Barbara Walters Special and in the drive-in film The Rage, Universal Studio's Horror Nights XVIII as well as by Monday Night Football and by artists Insane Clown Posse, Three Six Mafia, Twiztid and The Misfits. In 2010, Midnight Syndicate released a full-length horror film called The Dead Matter, directed, scored and co-produced by Douglas alongside Robert Kurtzman (From Dusk Till Dawn, co-founder, KNB EFX) and Gary Jones (Xena, Boogeyman 3).
Midnight Syndicate continues to pursue its quest to use instrumental music to tell explicit stories full of tension, twists and turns. Most recently, the band completed the score to the grindhouse thriller Axe Giant: The Wrath of Paul Bunyan. In summer, 2013, Midnight Syndicate released the soundtrack to that film along with Monsters of Legend, a tribute to the classic Universal, Hammer and Euro horror films that gave birth to horror cinema.
CREDITS
DISCOGRAPHY
Monsters of Legend (2013) : Composer / Producer : Midnight Syndicate
A Time Forgotten (2012) : Composer / Producer : Midnight Syndicate
Carnival Arcane (2011) : Composer / Producer : Midnight Syndicate
The Dark Masquerade EP (2010) : Composer / Producer : Midnight Syndicate
Halloween Music Collection (2010) : Composer / Producer : Midnight Syndicate
The Dead Matter: Cemetery Gates (2008) : Composer / Producer : Midnight Syndicate
Out of the Darkness (2006) : Composer / Producer : Midnight Syndicate
The 13th Hour (2005) : Composer / Producer : Midnight Syndicate
Dungeons & Dragons (2003) : Composer / Producer : Midnight Syndicate
Vampyre (2002) : Composer / Producer : Midnight Syndicate
Gates of Delirium (2001) : Composer / Producer : Midnight Syndicate
Realm of Shadows (2000) : Composer / Producer : Midnight Syndicate
Born of the Night (1998) : Composer / Producer : Midnight Syndicate
Midnight Syndicate (1997) : Composer / Producer : Midnight Syndicate
FEATURE FILMS (ORIGINAL MUSIC)
Axe Giant: The Wrath of Paul Bunyan (2013) Composer : Director: Gary Jones – Kinetic Filmworks
The Dead Matter (2010) Composer : Director: Edward Douglas – Midnight Syndicate Films
The Rage (2007) Composer : Director: Robert Kurtzman – Precinct 13 Entertainment
TELEVISION (LICENSED MUSIC)
Making Monsters : Additional Music : SyFy
Ellen Degeneres Show : Additional Music : ABC-TV
Monday Night Football : Additional Music : ABC-TV
NBA on TNT : Additional Music : TNT
Barbara Walters 10 Most Interesting People : Additional Music : ABC-TV
Travel Sick : Additional Music : Travel
The Possessed : Additional Music : SyFy
VIDEOGAMES (LICENSED MUSIC)
Baldurs Gate 2: Dark Alliance : Additional Music : Interplay
Shadowbane 2 : Additional Music : Wolfpack Studios (Ubisoft)
CLIENTS (ORIGINAL MUSIC)
Universal Studios Orlando – Halloween Horror Nights
Wizards of the Coast, div. Hasbro Properties, Inc.
Border Foods
CLIENTS (LICENSED MUSIC)
Anheuser Busch Entertainment (Busch Gardens theme parks)
Universal Studios
Ripley Entertainment
Six Flags
Cedar Faire
Carnival Cruiselines
Sirius / XM
Muzak / Mood Media
Madame Tussaud's (Sudden Impact Entertainment)
Movie Park Germany
Kennywood
Party City
Spirit Halloween
Hot Topic
Heineken International
Sony BMG (Three 6 Mafia)
Misfits Records (Misfits)
Over 600 independent haunted attractions worldwide
AWARDS
Independent Filmmakers Hall of Fame, Scoring – Indie Gathering Intnl. Film Festival (2013)
Best Horror Soundtrack, Carnival Arcane – Rondo Hatton Classic Horror Awards (2012)
Best Score, The Dead Matter – Late Night Horror Film Festival (2011)
Best Score, The Dead Matter – Golden Cob Awards (2011)
Best Director, The Dead Matter – Full Moon Horror Festival (2011)
Best Film, The Dead Matter – Full Moon Horror Festival (2011)
Vendor Excellence Award, Midnight Syndicate – IAHA (2009)
Most Interesting People – Cleveland Magazine (2008)
Best Gaming Accessory, Midnight Syndicate The 13th Hour – Ennies Awards (2006)
Best Gaming Accessory, Midnight Syndicate The 13th Hour – Origins Award (2006)
Visionary Award – Cleveland Smart Business (2006)
Innovation Award – Cleveland Smart Business (2005)
Best Gothic Act, Midnight Syndicate – Cleveland Scene Music Awards (2001, 2004)
Best Gothic Act, Midnight Syndicate – Cleveland Free Times Music Awards (2001, 2002)