M
IDNIGHT
S
YNDICATE
~ THE ORIGINAL HALLOWEEN MUSIC MAESTROS ~
GOTHIC HORROR FANTASY SOUNDTRACKS FOR THE IMAGINATION
POSTED 12/08/2013 :: 09:56 PM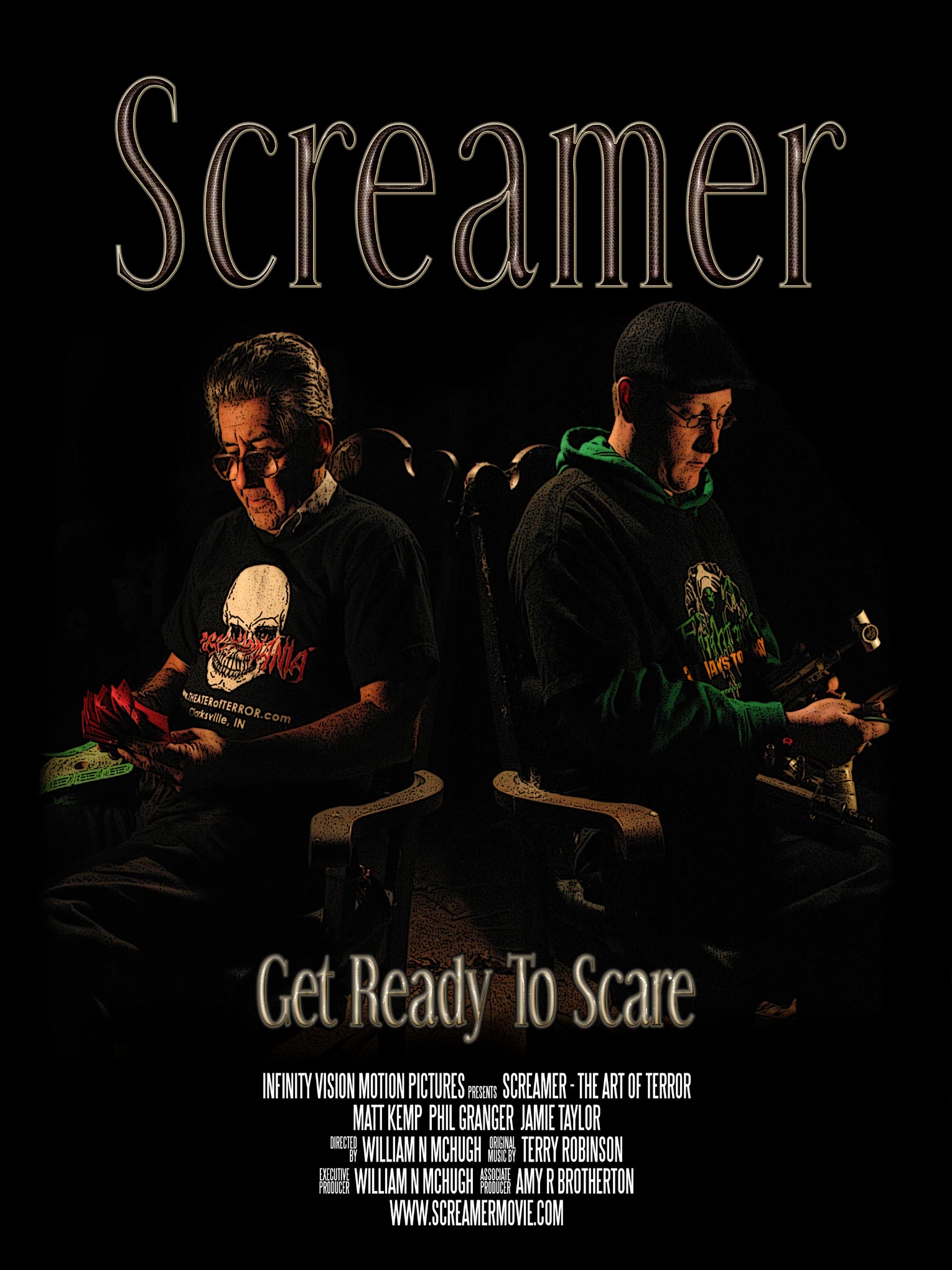 For those of you interested in getting into the haunted attraction industry or those of you just interested in seeing what goes into putting together a haunted house, the new documentary,
Screamer
, is a must see. A few years ago, Midnight Syndicate collaborator David "House" Greathouse gave us a great behind the scenes look at haunted house acting with his documentary
Legion of Terror
. In this new documentary, director William McHugh gives us a very real (sometimes brutal) look into the world of haunted house design, building, and management.
Following a couple of haunted house builders in Indiana for five years the documentary set out to disprove the idea that the haunted house business is "fun and easy." While documenting their struggle to make a successful haunted house business, the film's two subjects, Matt Kemp and Phil Granger sometimes produce some humorous if unsuccessful results. The film moves around to some of the more successful haunted attractions around the country while maintaining the main story thread that ends with a shocking twist.
The DVD is currently available on EBAY as well as on the film's website,
www.screamermovie.com
where it is also available as a streaming rental.
In addition to the music of Midnight Syndicate that is heard throughout several of the haunted houses showcased, the documentary also features a brief interview with Edward Douglas from 2006.
POSTED 11/25/2013 :: 03:56 PM
On behalf of the entire Midnight Syndicate crew, we would like to wish you and yours have a great Thanksgiving! We know many of you are anxious to hear about plans for Midnight Syndicate Live! We hope to have an update for you in mid-December.
POSTED 11/08/2013 :: 07:53 PM
To our fans and supporters,
Very recently, we were presented with a new and very, very exciting potential opportunity for
Midnight Syndicate Live!
We feel strongly that this is something that we need to explore. Unfortunately, this will take us past the November 10th deadline for this Kickstarter campaign. And so, in order to give us time to do our due diligence for our fans and backers, we have had to cancel it.
At the end of the day, we feel that we owe it to all of our backers who have pledged their hard-earned money to help create a live Midnight Syndicate concert, as well as to the fans and supporters who have helped us promote this campaign, to thoroughly explore this possibility.
If it were to come to fruition, this new opportunity would result in a win-win situation for everyone who is involved in and has backed
Midnight Syndicate Live!
It would entail a live show in 2014.
If things don't work out, we will take what we have learned and launch a second campaign.
To everyone that has supported us and gotten behind this project so far we THANK YOU! The amazing response we've seen to this campaign just shows us once again that we have the GREATEST FANS IN THE WORLD!
--- Ed, Gavin, and the Midnight Syndicate Live! team
POSTED 11/04/2013 :: 12:10 PM
We've entered the final week of our
Kickstarter campaign
to make Midnight Syndicate concerts a reality! This is a really important project for Midnight Syndicate going forward so if you haven't checked out the
Midnight Syndicate Live! Kickstarter campaign
yet,
please do so!
We have a ton of great rewards available. This is a chance for you to support Midnight Syndicate in huge way AND be an integral part of a one-of-a-kind Halloween horror multimedia concert experience!! The direct link to the Kickstarter campaign is:
http://kck.st/1bCv95j
.
POSTED 10/30/2013 :: 01:53 PM
Midnight Syndicate Live! is the next stage in Midnight Syndicate history. Midnight Syndicate Live! will give us the opportunity to bring Midnight Syndicate's music live to YOUR city, as well as create a one-of-a-kind multimedia experience that you will never forget! By becoming a backer on Kickstarter, you will be on the inside loop on everything from pre-production to production from Day 1. Additionally, by joining now, you will forever be a part of Midnight Syndicate history, a new Halloween tradition, and Halloween music history! Become a part of the team. Support Midnight Syndicate. Join us today!
: : : : O L D E R P O S T S : : : : N E W S A R C H I V E S : : : :